I know what you're thinking, "another series where you do nothing but get others to write for you?!". Well, yes, but I promise you'll like this one. Former Tigers Bret Eddins, Jeris McIntyre, and possibly Cole Cubelic, have graciously agreed to answer a few questions each week for the 'Blogle, in a series I'm calling "Roundtable of Tigers Past". I flirted with the idea of naming it the "Has-been Roundtable", but then I watched this again, and quickly threw that one out. I'll ask about their thoughts on this year's Tigers, upcoming games, and for them to compare what's going on with this season to how things went in their seasons on the Plains. Feel free to post some questions you might have for the guys, and I'll try to get them answered.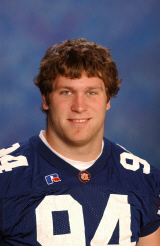 Bret Eddins. After leaving Auburn in 2004, Bret spent a year on the New York Giants practice squad. Towards the end of the season, they decided to go with two Pro-Bowl defensive ends. There was no need to keep the husky slow kid (his words) around, so he got a free trip back home. After looking at several career paths, he decided to work with his father in real estate and he has been doing that ever since. His family company, Eddins Properties, is based in Montgomery where they handle all types of real estate with a focus in residential.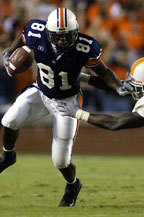 Jeris McIntyre. You will all remember #81, as a star receiver for the Tigers from 2000-2003. You may also remember him as the guy who ran stride-for-stride with Cadillac on the first play of the 2003 Iron Bowl. After his career at Auburn, Jeris was drafted by the Kansas City Chiefs in the 2004 NFL Draft. In the spring of 2005, Jeris played in NFL Europe and was one of the leaders in yards per catch as well as being the Rhein Fire's top wide receiver. Jeris also had stints with the Toronto Agros of the CFL and the Dallas Desperados of the AFL. After concluding his pro football career, Jeris became an Executive Producer for the sports reality show "Outside The League" on VoiceAmerica.tv. In addition, Jeris is part owner of Pro Productions, LLC and Suca Pipe Supply, Inc.
1. What excites you most from what you've seen of the 2010 Auburn Tigers?
Bret: I've been excited by the play of Cam Newton and the different abilities he brings to the field. He has allowed the offense to run some schemes that have not been possible in the past. I've also been excited by the play of the defense at times. While consistency can still be an issue, to play the way they did against MSU in just the second year of a system was fun to watch. Having a chance to see so many of our young players, freshman and red-shirt freshman, contribute this early in their careers is always fun. Many of those guys have a bright future and it shows recruits that if they come to Auburn the opportunity to play early isn't just a sales pitch.
Jeris: What excites me most so far in this 2010 season is the play of Cam Newton and the play of the D-line. Cam Newton has two games under his belt, but looks like a seasoned vet. What excites me most about Cam is his ability to make a play with his feet when he needs to, but he also knows when he should stay in the pocket and beat you with his arm. That is impressive for a quarterback that's relatively new to the SEC. He will only get better with game reps, and that is scary for the rest of the SEC. After only two games is being mentioned with former Auburn greats Daymeune Craig and Jason Campbell.
With the D-Line we obviously have to start with Nick Fairley. He is an absolute "beast". As a whole, though, we have a very good mixture of some talented veterans and some very talented young players that are still developing. Under coach Rocker, they are only going to get better as time goes on, but from what I see they are big, athletic, and they play well together as a unit.
2. How does this team compare to one of the teams from your Auburn career? Any major similarities/differences?
Bret: I think each team is very much unique to their own year so this is a tough question. This offense is comparable to ours in 2004 due to their talent level and quick strike ability. Experience up front with talented receivers and a mobile quarterback are similar as well.

I'd say this defense is closest to the 2003 defense because they are in the second year of a system and while they are very talented and have great leaders, it might not all come together at times due to lack of experience in the system. I really think this defense, like that one, will only get better as the year goes on.
My biggest hope for this team is to ultimately be successful and rank among the great teams of all time at Auburn.
Jeris: It's kind of hard to tell this early in the season, but that 17-14 game against Miss. State reminded me a lot of some of the dog fights that we had in the SEC when I was playing. Back then we had a lot of talented players on offense, but we were more known for our defense. That game last Thursday was very similar to a lot of games we played in because the offense would stall and the defense would have to bail us out. So I can say that game was a similar type of game, but a team as whole its too early to tell. What I did see that was similar last week was the way we put pressure on the quarterbacks for Miss. State. All of the teams I played for at Auburn put pressure on the quarterback.
3. What are your thoughts on this week's game with Clemson? Will you be there?
Bret: I will definitely be there in my blue cheering til my voice is gone. I don't know much about Clemson other than they have a very talented quarterback and some very talented play makers on both sides of the ball. Containing the big play and getting hits on Parker will be big for our defense. Finding the most advantageous match-ups for our offense to have big plays will likely make the difference in the game. If we can run the ball with success I think we have a great chance to win. Not only will it wear down their defense, but it will allow our offense to get in our quick snap mode as well as open up big play possibilities through the air.
Jeris: This is going to be a very exciting game.This will be another test for Auburn before they get into the meat of the SEC. It's a night game, and we are at home, and its always hard to come to our stadium at night and beat us. Clemson has not really been tested yet so coming to Auburn at night is not a good first test. I think it is going to be close at first, but I just think we will feed off that crowd and play really good defense and pull away from Clemson in the second half. I may make the trip up there from Tampa, but if i don't I will be watching the game on ESPN 3D.
Remember to post your questions for the guys in the comments section below.