I'm convinced that Mr. FireWillHeath will be wearing an Auburn shirt or hat by the end of the season. His positive outlook on Auburn the past few weeks has been downright scary. Or maybe he's an objective writer/fan. What's that?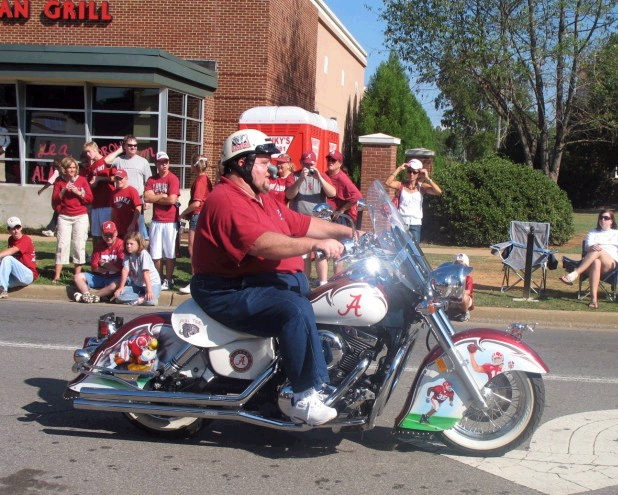 Season 2, Week 6 -Tony's Full Circle(?)
by FireWillHeath
So I'm watching Middle Tennessee State getting housed on the road at Troy Tuesday night, and suddenly the camera pans over to the MTSU sideline. Who should I see, but Tony Franklin.
(Important note: for reasons of my own mental health, I watch most of these games now with the sound turned way down or off. My wife started thinking about having me committed after she heard me arguing with the television once too often. All that to say, I'm not sure what the conversation was in the booth at the time.)
It's more than a little ironic, no? Almost a year to the day after statewide media captured Franklin on film as he packed up his office at Auburn, here he was, back at the school where he was considered an offensive genius, only this time as a visitor.
It's also more than a little ironic to see Franklin given the current state of Auburn football: 5-0, having just dismantled Tennessee in Knoxville (remember, last year's game at Jordan-Hare nearly matched the 3-2 game at Mississippi State for combined offensive futility) and the darling of nearly every college football pundit in the state and the rest of the nation. Hell, even Finebaum had nice things to say about Auburn in his Tuesday column.
So, then, what's the difference? How have Chizik and Gus Malzahn succeeded where Tony Franklin flopped so memorably in 2008? From my chair, the reasons appear to be threefold:
• Chris Todd is a completely different quarterback than he was in 2008. That's the biggest difference. Whether it was his shoulder or he just didn't feel comfortable, I have no idea. I do know that it's hard to believe he's the same guy this time around. The numbers will bear that out.
• Chizik is smart enough to leave Malzahn alone. Remember, last season, coach Tuberville wouldn't stop meddling with Tony Franklin's offense, constantly sniping about how Auburn wasn't running the ball enough and throwing him under the bus at every opportunity (and that's before we talk about Franklin not bringing any of his staff with him from Troy). For whatever his other flaws are as a head coach, Gene Chizik is at least smart enough to know that he doesn't know everything — he stays out of his offense's way, and that autonomy has benefited Malzahn (remember also that Malzahn is the same guy who couldn't co-exist with Houston Nutt, another famous meddler).
Which leads me to my final point …
• Everybody's on the same page this time around. I generally despise sports cliches, particularly in football. One game at a time, guys gotta come together, give it 110 percent, blah, blah, blah.
On the other hand, I can tell you from personal (and hellacious) experience that it's nearly impossible to win when everybody on the sidelines isn't pulling for everybody else. That wasn't the case for Auburn in 2008 — to call that locker room divided is something of an understatement.
Obviously, the jury won't return a verdict for coach Chizik until he's established a program that can prove things week in and week out for several seasons. But if we can say nothing else, say this: he's got everybody in the Auburn locker room pulling in the same direction.
And it's hard to argue with the results.