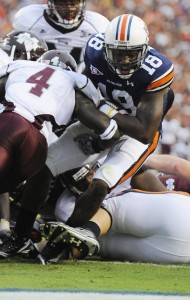 I'm sorry Auburn. I'm sorry for not giving your offense enough credit. I'm sorry I only picked you to score 42 points. I'm sorry I tried to be "real" and "rational" because everyone else picked you to score somewhere in the 23-27 range. I'm sorry that I gave in to peer pressure, it won't happen again.
State isn't that bad. This team could be for real one day and sooner than most would think. Dan Mullen's offense isn't completely clicking yet, but it showed flashes of promise. The two quarterback system is working for now, and freshman Chris Relf could be really, really good one day. If they can continue to improve as much as they have since last season, they could definitely become a contender. It's funny how everyone picked State to keep the game close, and then when the overall margin of victory got pretty big, all of a sudden Miss. State is "terrible". State isn't terrible, and maybe, just maybe this means Auburn is really good.
Special teams need some work. I think everyone will agree that the most glaring hole in Auburn's team so far this year is anything related to special teams, besides placekicking I guess. Wes Byrum showed that his sophomore slump is history, or at least it was against La. Tech. Let's hope he keeps kicking like he did…oh when this happened.
Byrum didn't have any field goal opportunities against Miss. State, but he was a perfect 7-7 with PATs. One was partially blocked though. On a side note: that's got to hurt to block a ball that is either strong enough to go through your hand or just nips one of your fingers and still goes through. No thank you. However, that wasn't the only ball that was blocked on an Auburn special teams play. Miss. State took the lead 17-14 in the 2nd quarter on a blocked punt that was actually tackled and swallowed by 15 of Miss. State's players. Can anyone tell me the last time Auburn had a blocked punt returned for a touchdown?
I'm not really sure I like the spread punt formation with three big uglies as the last line of defense. They are used to another big guy right in front of them, a little foot shifting, and trying to hide holding as much as possible. Jumping in front of a 150-pound guy flying around the end probably isn't the best situation for them. But the blocked kick was just a result of four guys getting through and only three guys there to block them. They just let the wrong one go. One could ask, how did four guys get through anyway? Either way, it has to be fixed.
On the other side of the ball, Auburn ranks almost dead last in punt returns. We've had two or three just straight up drops, and average less than five yards per return. That's pretty bad considering we actually had some success returning punts last year. Where have you gone Robert Dunn? Oh, here he is, and yes that is real, but I wouldn't listen to it around your mama.
Oh and kickoff coverage is bad too, but not as bad as Bama's. That's all I have to say about that.
All's well that ends well. All in all, against Miss. State it seemed like Auburn had to overcome a lot more adversity than the first game, but they also looked a lot better in other ways. Blocked punts for touchdowns, dropped passes, and bad kickoff coverages were all covered up by seven touchdowns, a successful fake punt (that was wasted), long runs by both running backs, and an overall blowout.
Auburn looks really good, and the country is starting to take notice. Let's just hope the Tigers get better each week, continue to trust their coaches, and back the man in front of them. If all these things continue, Atlanta will definitely be in their future.