We were told Arkansas was for real after they knocked off a typical Texas and a down Texas A&M. People love an underdog story, and they love Sam Pittman. It was perfect for them.
Arkansas was so bad a few years back that any sort of success mixed with your unorthodox not very young and svelte coach who says "Yes Sir" in a funny way was a recipe for overhype. Therefore, Arkansas was near the top of my list of teams I wanted to see fail or at least to be exposed this season.
Following their blowout loss at Georgia and another loss at Ole Miss, the Razorbacks would be sent fully back where they belong with a third straight loss. That's where Auburn came in.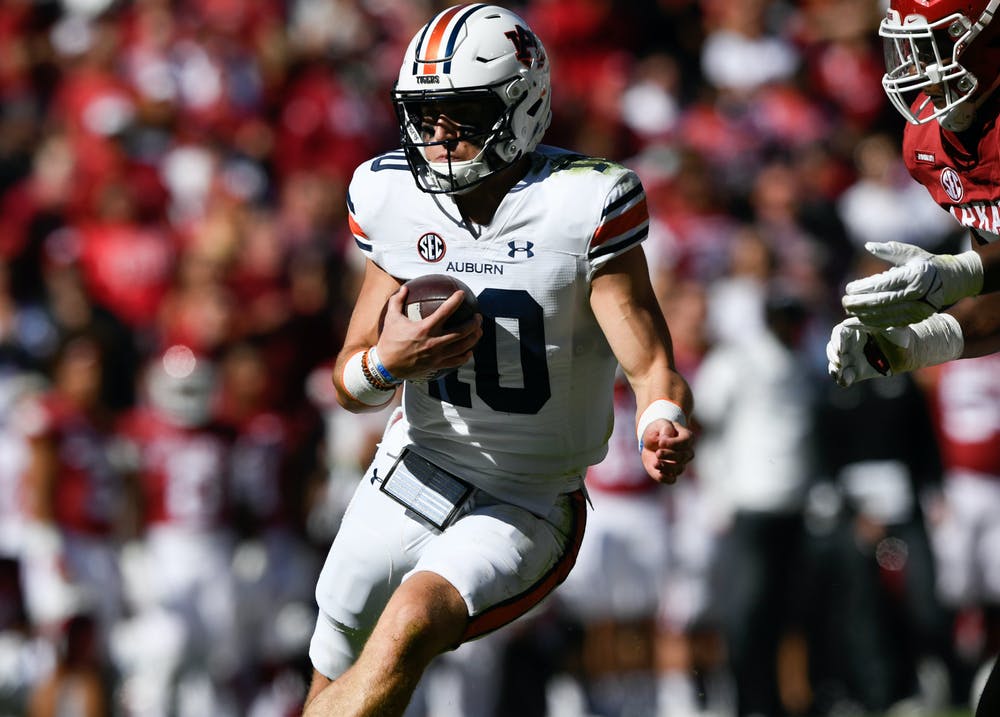 Somehow losing to the #1 team in the nation (with 800 drops by your wide receivers) in a more respectable fashion than Arkansas did the week before means that Arkansas would beat Auburn. Yeah, who knew?
It was 11AM and the stadium was supposed to be packed with rabid fans. It wasn't… because it was Arkansas coming off two losses.
Auburn won the toss and took the ball. Why? Because they were going to go down the field in the most perfect drive all season and score on a long ball to Ja'Varrius Johnson. That's why.
After an Arkansas field goal, some punts, and a missed Arkansas field goal, Auburn rode the Tank to go up 14-3. The run game was there a little more than it had been this season. This time it was in the opposite fashion than what we had become accustomed to since around the Penn State game. Tank broke a few long ones, and until the last drive, Jarquez Hunter was mostly hemmed up. It was good to see Tank break away a few times.
Speaking of hemming up, the Auburn defense did just that to Arkansas's Cam Newton. Didn't you hear? The Arkansas quarterback was tall and had other similar physical attributes as Cam Newton so he surely was going to be just as good. All I saw was a guy who stood in the pocket way too long and took three sacks. I saw a guy who didn't know that it's easier to run 5 yards than throw it 50. I saw a guy not nearly as good as Cam Newton.
After a turnover on downs (the first of three) for the Razorbacks, Auburn moved the ball down the field before Bo Nix pump-faked and threw the ball up for grabs. The defender outplayed the receiver and came down with the ball. This led to Arkansas's first of two good drives all day. The Razorbacks went straight down the field and scored just before the half to make the game 14-10 Auburn.
Arkansas got the ball right after halftime and did pretty much the same thing. They went 75 yards in 6 plays and took the lead 17-14.
After two Auburn punts, Arkansas was backed up inside the 10-yard lane. Enter the Auburn defense feasting on an Arkansas quarterback that literally would stand still in the pocket all day if you let him. What looked like a safety turned into a fumble which turned into a touchdown. Auburn was back on top and would not relinquish the lead again.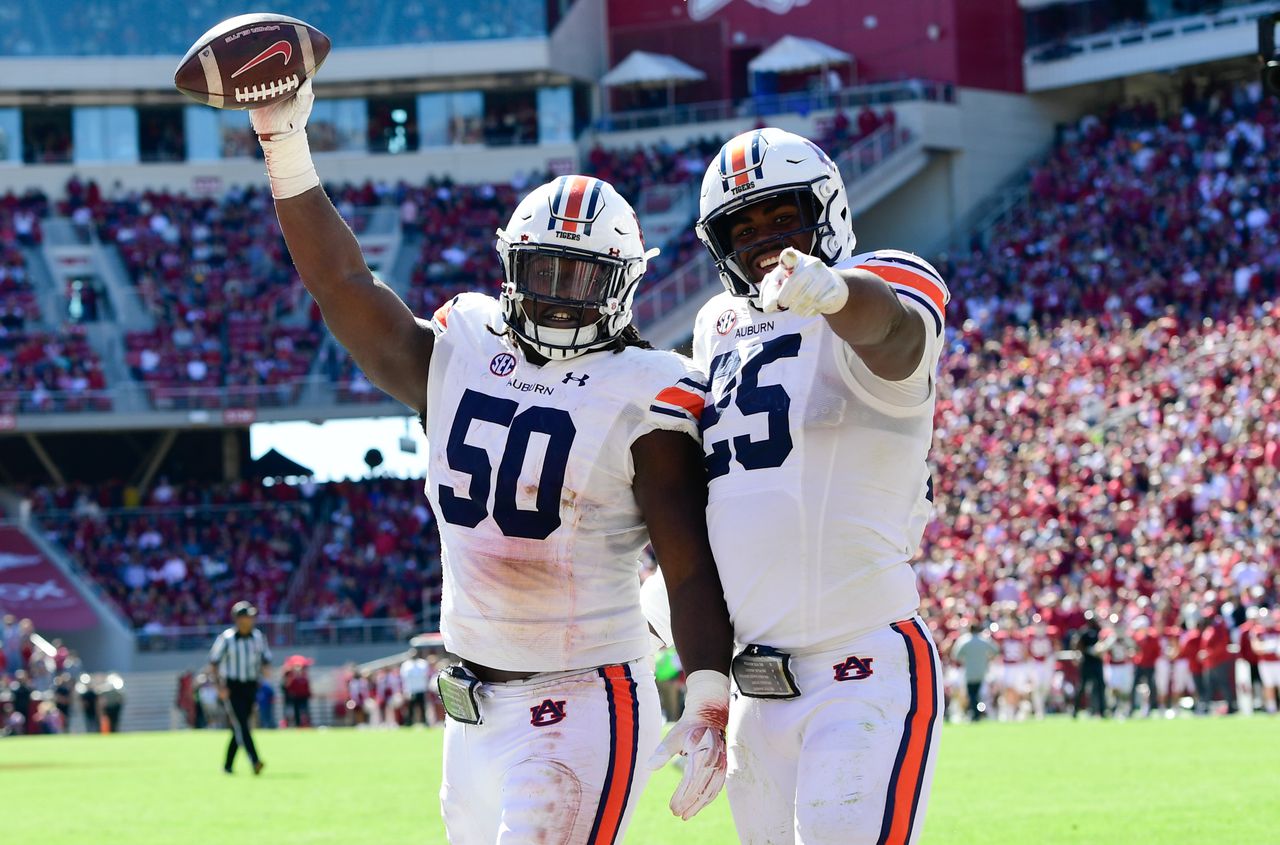 The Auburn defense would then cause another turnover on downs before Bo Nix led a one play, 71-yard drive to go up 28-17. The one play was a bomb from Nix to Robertson. It was perfect.
Just because it's Arkansas, and you can't ever feel okay until later into the game, they followed that up with a scoring drive of their own. Bend-don't-break broke.
Auburn responded with a field goal, caused a punt, and then drained 6:21 off the clock with a 12 play, 75-yard drive. It included multiple false starts, but it also included lots of tough runs by Jarquez Hunter. It ended with Bo Nix waltzing into the end zone to send the Hawg faithful home.
As great as Bo Nix played, as good as it felt, as much as a 15-in point win on the road means to the program, I was just glad to see Arkansas, a team we all knew had no business being ranked ahead of Auburn, go down.
The win was big because people still do go by those numbers next to names, and Arkansas had a 17 and Auburn didn't have number. It was stupid it had to be proven, but Auburn gladly did it. They did what I expected, what you should've expected, and that's all there is to it.
The Tigers are 5-2, have a bye week, and can now rest and prepare for a night home game against another beatable team. Auburn has the talent to be one of the best in that nation. You can see them getting better each week. You can see Harsin and his stuff putting it together. The rest of the season is there for the taking.
Time to take it, Auburn.