The home crowd was not as big as the Kentucky game, but with an hour to kickoff, the downpour had them riled up. It was loud for the size of the crowd. I felt like it was going to be a fun blowout.
After the defense forced some 3-and-outs and pressured Felipe Franks, then the blocked punt-turned-touchdown, I definitely felt like Auburn was playing Arkansas. The Razorbacks punted on five straight possessions to start the game. That means Auburn got off the field on 3rd down five times. They did not punt again until their true final possession of the game. Yeah, it started good and then wasn't.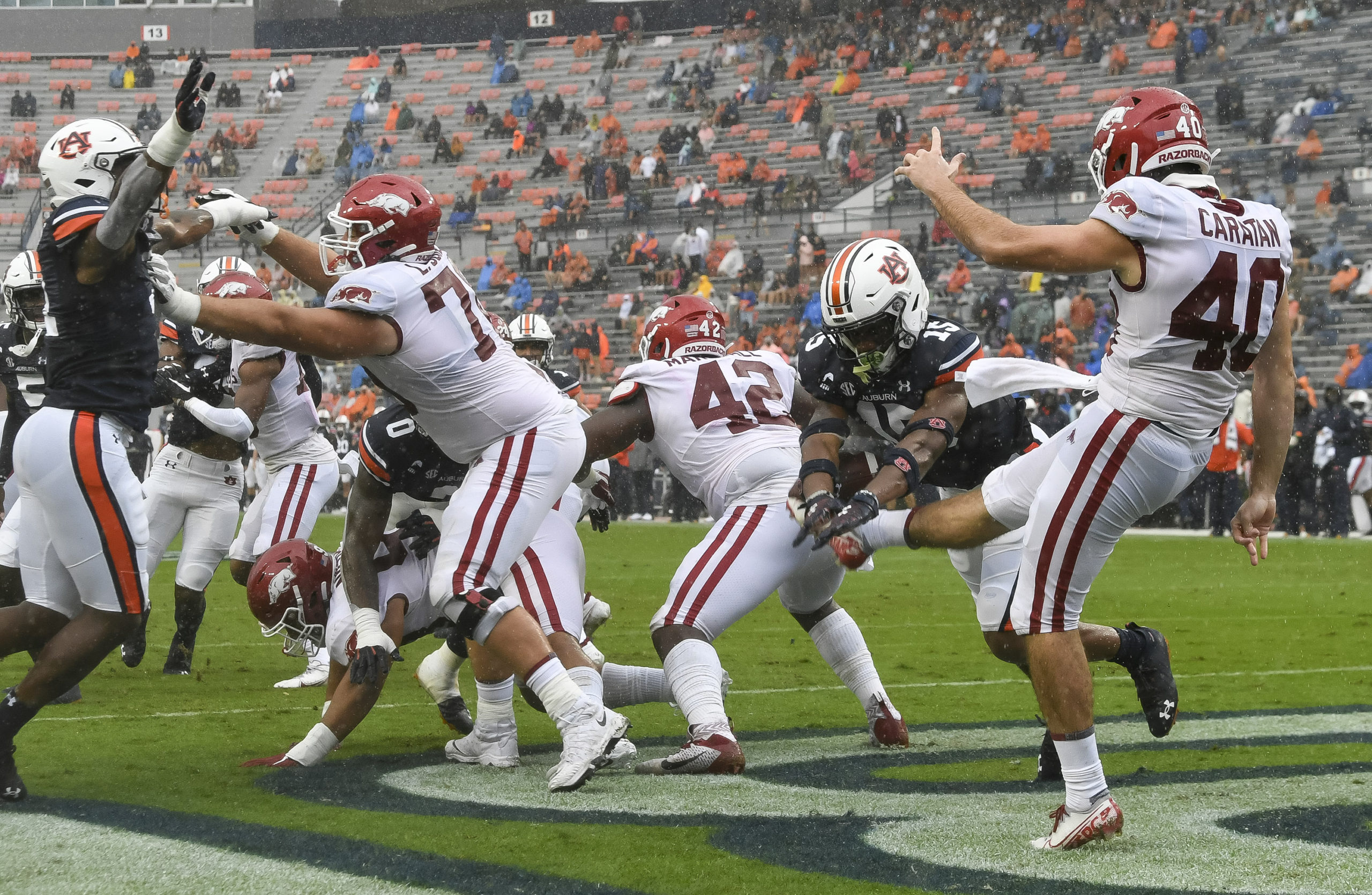 Auburn took a 17-0 lead after the blocked punt, a field goal, and then Bo Nix's scamper inside the red zone. It felt good and comfortable. But the next Razorback drive was helped by a 15-yard facemask that I believe put them in Auburn territory for the first time of the day. It helped. They scored a few plays later.
After a quick punt, Arkansas got the ball back again. On the first play, they chunked it up, the Razorback receiver pushed off and caught the ball. It was nearly a 50-yard gain on the first play. It helped. They scored a few plays later.
Then Tank Bigsby showed what he was going to show us the rest of the day. HE WILL NOT GO DOWN. He took Auburn down the field. Then the drive fizzled and resulted in a field goal. Auburn led by eight at the half. Oh, I forgot to mention that Arkansas botched their first extra point, and then failed on their 2-point conversion on their 2nd touchdown.
Eight point lead and the ball to start the 2nd half? It felt okay, but those two scoring drives by Arkansas didn't feel right. It wasn't raining much anymore. That helped Arkansas a lot.
To start the 2nd half, Auburn punted. People grumbled. Arkansas scored. But so did Auburn with everybody's favorite play to hate when it doesn't work: the tunnel screen. Oh, but Arkansas failed at yet another 2-point conversion. 9 point lead.
Arkansas added a field goal. Auburn went three and out, and then it got hairy.
The Auburn defense held the Razorbacks to a 3rd-and-7. Franks run for 9. Then they held to a 4th-and-5. Franks 11 yard pass, followed by a 30-yard touchdown pass as the mist started to fall.
Truth be told, Franks may not be Joe Montana but he is a 5th-year senior that was good enough to start at Florida. The new head coach isn't making Arkansas respectable this year. It's an experienced quarterback and a very good, young offense coordinator (Kendall Briles). They made adjustments and whatever they did that Auburn stuffed for a quarter or so was long gone.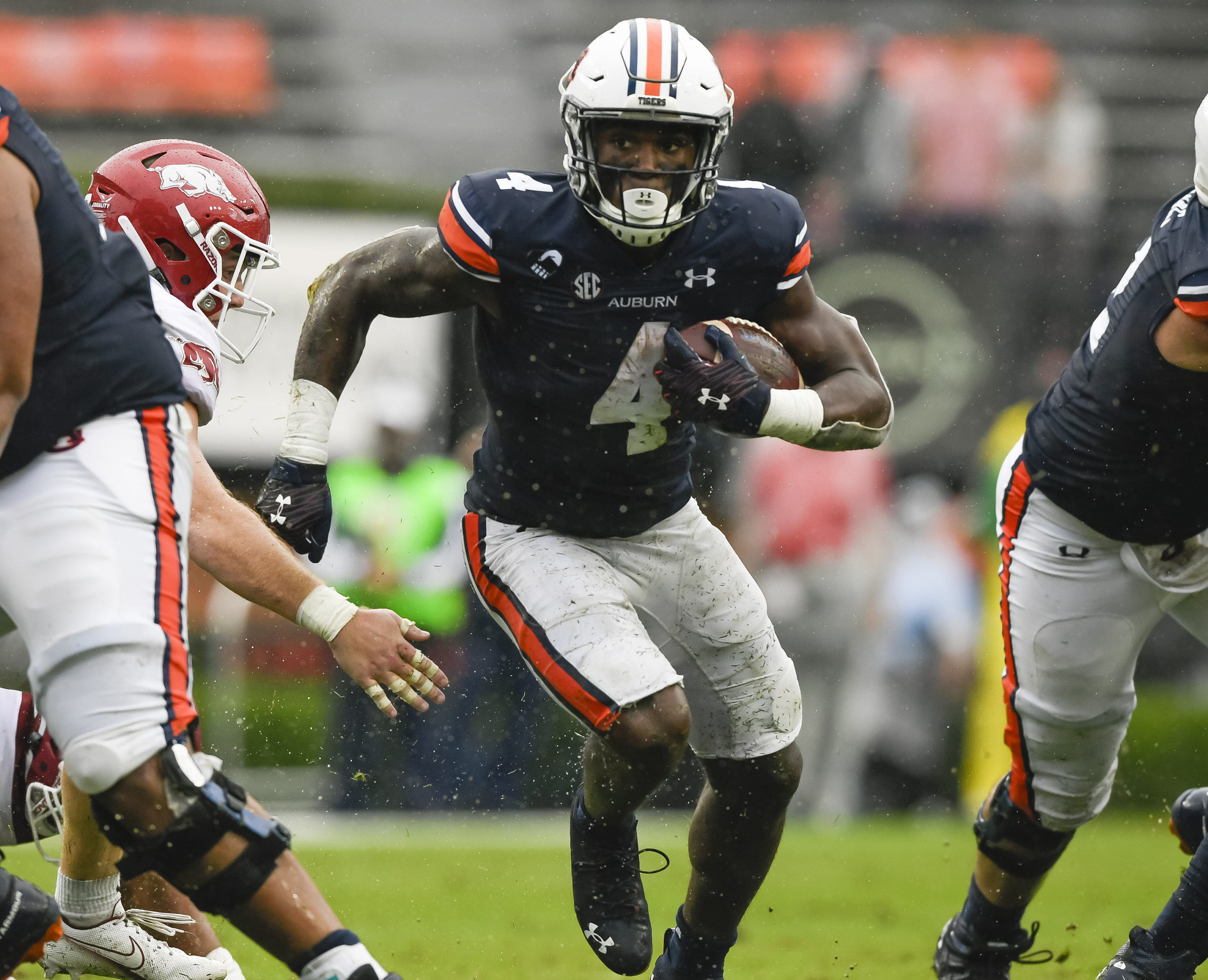 With 5:18 left in the game, Auburn trailed by 1 point. They immediately moved the ball down the field. Everybody was pumped. I was thinking run the clock and just kick a game winning field goal. "WE'RE GOING TOO FAST!"
Well, they got to the 17-yard line, ran three plays that went for no gain (two incomplete passes and a run). 2:38 left on the clock… field goal is wide right.
Dang it.
Auburn had all three timeouts and plenty of time to do something as long as they held Arkansas to a 3-and-out, something they hadn't done since… checks notes… 3:51 left in the 1st quarter.
Great.
Arkansas did what you'd think. They ran it… 5 yard loss… and ran it… 3 yard gain… and ran it… 4 yard gain. 4th and 8ish. Punt.
The punt wasn't great. Tutt got a few yards and then Arkansas was called for illegal formation which added on 5 yards. Auburn had around 50 yards to go for a touchdown, but they only needed about 20 for a comfortable field goal. But they had no timeouts.
Tank reception for 8. Tank run for 9. Tank run for 8. Bo run for 1. That was close enough, but the clock was running and there were no timeouts. Bo looked to the sideline for guidance. He was told to spike it. It looked confusing.
It was 3rd and 1, so I guess the question was should we try and get a 1st down to stop the clock, spike it, and then kick? But instead he quickly tried to spike it, he fumbled it, picked it up, and spiked it again. The angle of the spike was in a negative direction. The ball kicked around and landed at Auburn receiver Shedrick Jackson's feet, but the referee next to him was waving his arms and blowing his whistle. The head official was doing the same. They stopped the play.
In a perfect world, it should've been called a backwards pass, therefore a fumble, and see who gets it (remember, it was at Shedrick Jackson's feet, who would've likely picked it up and run it in for a touchdown if you look at where everybody else was on the field. At worst, he falls on it and Auburn has to kick a slightly longer field to win the game).
Instead, the officials blew the whistle because it was an obvious spike situation and that's what it looked like. But because Bo fumbled it first, he couldn't legally spike it, so that made it intentional grounding. This puts the ball where it happens and you lose a down. 4th down.
Much has been said about Arkansas recovering the fumble. #1, there was technically no fumble because the whistle was blown. #2, if there was a fumble and the play continued naturally, Auburn would've easily recovered it.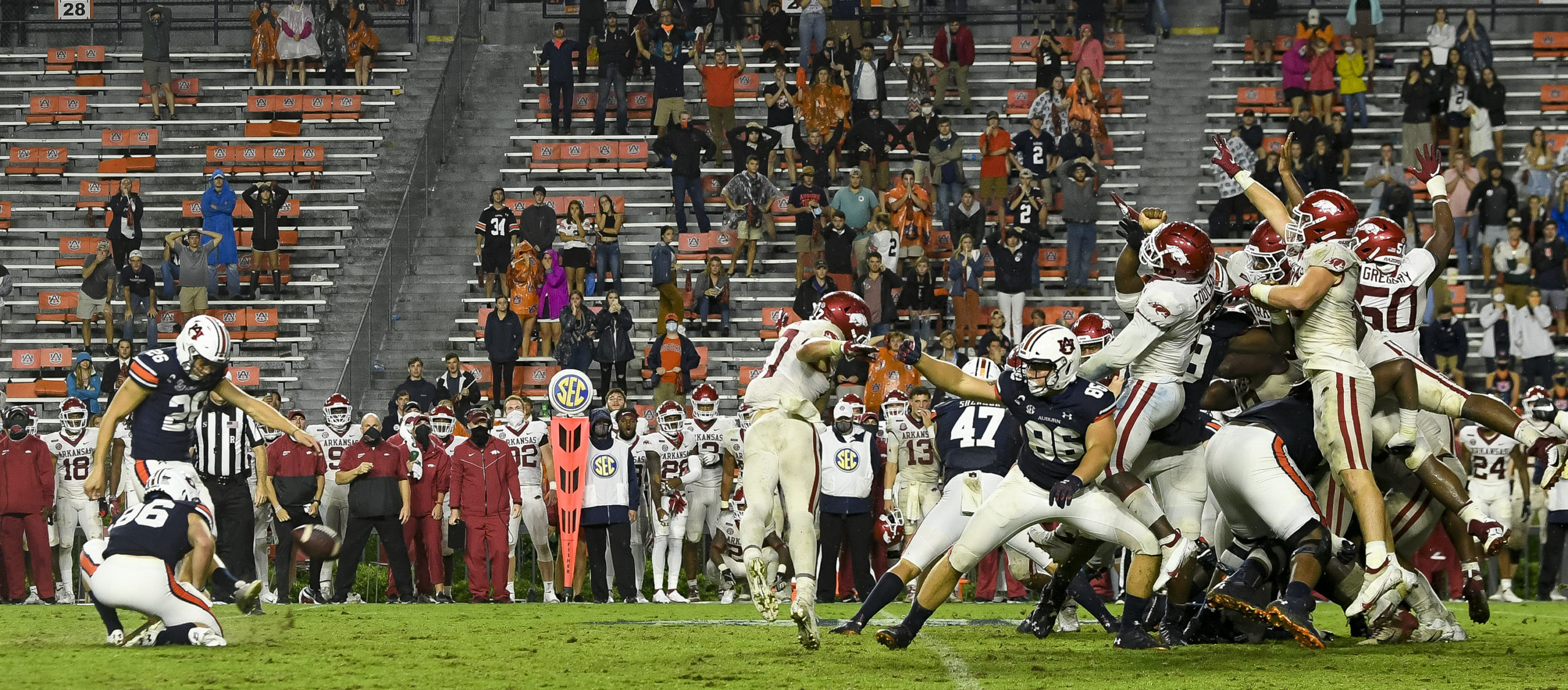 Auburn made the field goal with 7 seconds left. Arkansas ran a hook and ladder. It didn't work. Auburn won.
Whether you pull for Arkansas or claim you pull for Auburn but hate when Auburn doesn't win every game by 400 points, the officials screwed up slightly by blowing a whistle early in a crazy scenario that has only been nitpicked because we have instant replay. But even without the error, Auburn recovers that ball.
There was a torrential downpour. Tank showed us something special. With Seth Williams not at 100%, Schwartz seemed to take a more prominent role. He looked more comfortable later in the game. There were good things. The bad things, mostly on defense, were caused by good coordinator adjustments and a respectable, experienced quarterback.
Auburn has two winnable road games coming up. This year is weird. Expect it. Embrace it. Just watch football.