14. Alabama 26 vs. Auburn 21 – Nov. 27, 2009
Note: This game was #9 in the 2010 edition and #11 in the 2015 edition of this list.

How I Remember It: My first memory of this game was going to the seat where I sat all year to find four crimson covered "men" squished into the three seats next to mine. Squished is probably not the best choice of words. Overflowing might be a little bit better.
Feeling as invincible as anyone does when they find someone sitting in their seat, I tapped the guy on the shoulder and told him he was taking up half of my mine. The heavier of the four starts yelling "Here we go! Gotta start something! Y'all are unbelievable!" The following conversation transpired:
Me: "I just want my whole seat."
Bammer in my seat: "I know who sits in these seats."
Me: "Yeah…I sit in these seats."
Bammer in my seat: "I have the ticket for that seat, I didn't sell it."
Me (putting the ticket in his face): "Can you read these numbers?!"
The Bammer sat down trying to move over enough for me to get in my seat. After a while he apologized, saying he just wanted to watch the game, and not have any trouble. Twenty minutes later, he told me again that he had the ticket for the seat I was sitting in. I pulled the ticket out again and asked him if he could read, which riled up the heaviest man on the other end. The Bammer next to me told him to shutup, and apologized again.
So I got to spend the 2009 Iron Bowl, with Alabama in the midst of their best season in years, in the lap of a man I had just argued with and was supposed to hate for the next four hours. That's always a really comfortable position to be in.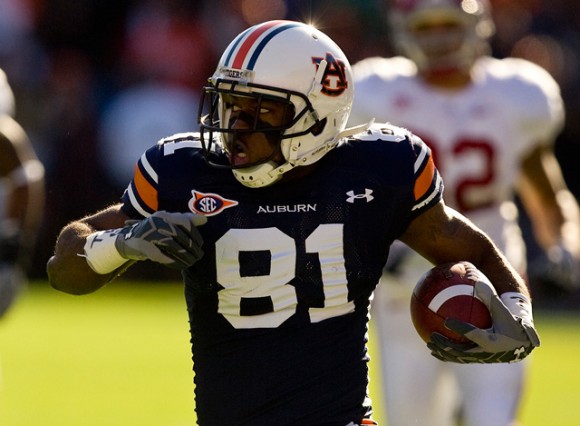 However, things got a lot better as Auburn scored 14 quick points to silence the 1500 pounds sitting next to me. We all remember what happened: Terrell Zachary on the reverse for a 67-yard touchdown, Wes Byrum's awesome surprise onside kick, and the methodical drive against the nation's best defense capped by a 1-yard pass from Todd to Eric Smith.
I remember acting a major fool after those touchdowns to rub it in, but I wasn't really acting too hard. The feeling of going up on Alabama 14-0 when the world had predicted a blowout was unbelievable.
I remember what happened next, but I don't want to talk about it.
At the end of the game I was very confused. I had never had that feeling of being okay with a loss because of how well Auburn had played. I wasn't doing the whole "yeah, but we almost won" thing. I wasn't claiming a "moral victory." Alabama beat Auburn, and that was it, but I was still proud to be an Auburn Tiger.
What Really Happened: Auburn went up 14-0 on the remembered awesomeness, before Alabama tied it up in the 2nd quarter with a 2-yard Trent Richardson touchdown and a 33-yard touchdown pass from McElroy to Colin Peek. Both teams would have promising drives before the half, but both came up empty, as the score stayed 14-14 going into halftime.
The Tigers showed that the two 1st quarter touchdowns weren't flukes as Todd connected with Darvin Adams on the pump-fake de 2009 for a 72-yard touchdown. The Tide added two field goals to put the score at 21-20 going into the 4th quarter.
Then "The Drive," or what I call "having to come back to beat a team you were supposed to blowout" happened, followed by some questionable clock management by Auburn, and yeah…whatever…you won, ok?!
Why did I pick this game? BLASPHEMY! You put a loss in the top 14 games of Jordan-Hare, and on top of that, a loss to ALABAMA?! Yes, I did. I'm trying to be fair. The game was awesome. All of it. Yes, Auburn lost, but it was easily their best game of 2009, and it was easily the best crowd of 2009. The Tigers showed they could play with the eventual national champion. They showed that there wasn't any domination going on. They showed they weren't going anywhere.
Oh, and to all the Bammers who called into radio shows, passed me in the hall at work, and talked to me on Twitter, saying they were glad that Auburn played so well because it meant the Iron Bowl was going to mean something again, do you not remember why the Iron Bowl didn't mean much for the better part of a decade? It was because Alabama sucked, not Auburn.
Fun Facts: Auburn held Heisman trophy winner, Mark Ingram, to 30 yards rushing. He was so deserving.
Play of the Game: Zachary's 67-yard touchdown run in the 1st quarter showed that Auburn wasn't playing scared and wasn't playing around.
Player of the Game: Darvin Adams had four catches for 138 yards and a touchdown.
Quote of the Game: "I just told them that we're not walking out of here with heads down. We're a family. We're a family when we win. We're a family when we lose." – Gene Chizik
Game Story: ESPN
Full Game:
You can view the rest of the 2020 edition of this list here.