The 2019 NFL draft was a somewhat disappointing showing for Auburn. The Tigers did not have a player selected until the 3rd round (Tampa Bay selected Jamel Dean), but ended up with six total players being selected. This year's crop of NFL-bound talent is certain to fare much better.
Unanimous All-American Derrick Brown is a virtual lock to be selected early in the first round. His defensive line teammates Marlon Davidson and Nick Coe figure to be selected on days 2 and 3, respectively. Noah Igbinoghene has seen his stock skyrocket over the last few months. Here is a compilation of where each Auburn prospect is projected to be go when the NFL Draft starts up on April 23rd.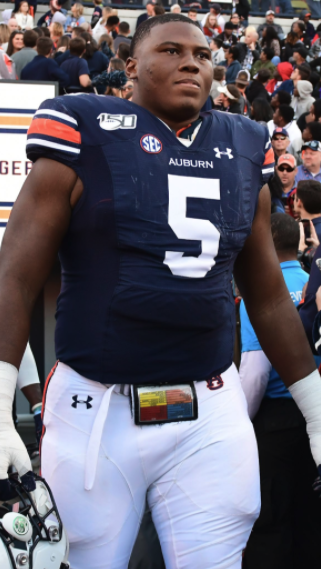 Derrick Brown, DT
NFL Network: 1st round, 7th overall, Carolina Panthers
CBS: 1st round, 7th overall, Carolina Panthers
USA Today: 1st round, 9th overall, Jacksonville Jaguars
The Ringer: 1st round, 13th overall, San Francisco 49ers
Bleacher Report: 1st round, 7th overall, Carolina Panthers
Auburn's best defensive player since Nick Fairley and unanimous All-American is a near unanimous top 10 pick. An absolute monster stopping the run, his "good not great" pass rush numbers (12 career sacks) are the only thing keeping him from cracking the top 5. The consensus is that he will either be going to the Carolina Panthers or Jacksonville Jaguars. The Panthers hit the reset button this offseason after the retirement of Luke Keuchly and releasing Cam Newton. Derrick Brown would be a rock to rebuild their defense around for the next decade.
Noah Igbinoghene, CB
CBS: 2nd round, 38th overall, Carolina Panthers
USA Today: 2nd round, 50th overall, Chicago Bears
The Ringer: 2nd round, 44th overall, Indianapolis Colts
Bleacher Report: 2nd round, 49th overall, Pittsburgh Steelers
Igbinoghene is a little bit more difficult to project. He has incredible talent that has been on display from a variety of positions. He showed promise as a receiver as a freshman, but a crowded WR room forced him to the defensive side of the ball. The former state track champion and son of two Nigerian Olympians has the athleticism to excel at the next level but has only been playing CB for two years. He certainly has all the physical tools scouts want but will still need to be coached up at the next level. Per Pro Football Focus, only allowed 3 TD in his 2 year career as a CB. On the flipside, he also only came up with 1 INT (though it was crucial; turned the tide against Texas A&M in 2018). Also exceled as a kick returner, housing one against Minnesota in the bowl game loss this year. Projects anywhere from late first round to end of the second round.
Marlon Davidson, DL
NFL Network: 2nd round, 29th overall, Tennessee Titans
CBS: 2nd round, 40th overall, Houston Texans
USA Today: 3rd round, 67th overall, Detroit Tigers
The Ringer: 2nd round, 45th overall, Tampa Bay Buccaneers
Bleacher Report: 1st round, 27th overall, Seattle Seahawks
Marlon Davidson and Derrick Brown formed a formidable duo in 2019 on the defensive line, accounting for 8 SEC Defensive Lineman of the Week awards. Davidson primarily played on the edge at Auburn but was deployed all across the defensive front. Because of his size (6'3", 303 lbs.) and strength, he projects more on the interior in the NFL (DE in a 3-4 system, DT in a 4-3 system). After providing 7.5 sacks as a senior in 2019, he projects as a late first round, early second round pick, with the most common destination being the Seattle Seahawks. Will provide a strong interior pass rush at the next level.
Prince Tega Wanogho, OT
CBS: 3rd round, 77th overall, Denver Broncos
USA Today: 2nd round, 52nd overall, Los Angeles Rams
The Ringer: 2nd round, 64th overall, Seattle Seahawks
Bleacher Report: 4th round, 113th overall, Jacksonville Jaguars
After the second round is when projections start to get hazy, and there can be wild swings of opinion on players. Wanogho is no different. He only started playing football after being recruited to Elmore from Nigeria to play basketball after the football coach saw his size. Like Igbinoghene, he has all the physical tools scouts look for in an OT, but with limited experience. He switched to the offensive side of the ball in 2016 after arriving at Auburn to play defensive line. Improved a lot as time went on at Auburn. The team that takes him will likely be looking at a project as opposed to an immediate starter. Potentially late second round, likely third round pick.
Nick Coe, DL
CBS: 6th round, 184th overall, Carolina Panthers
USA Today: 6th round, 191st overall, New York Jets
Bleacher Report: 4th round, 131st overall, Baltimore Ravens
Nick Coe had an interesting career at Auburn. After having a breakout year with 7 sacks and 2 forced fumbles in 2018, many scouts and fans alike were more excited about Coe than Davidson coming into 2019. However, mysterious off the field issues causing an apparent rift between himself, his teammates, and the coaching staff led to decreased playing time (including a suspension) and not a single sack. However, his 2018 season combined with the fact that edge rushers are the second most valuable position in football will have many teams willing to take a risk on him in the later rounds.
Jack Driscoll, OL
CBS: 5th round, 171st overall, Houston Texans
USA Today: 6th round, 205th overall, Minnesota Vikings
Bleacher Report: 7th round, 243rd overall, Green Bay Packers
Wanogho's opposite tackle arrived on the Plains as a transfer from UMass and started 26 games at RT over the last 2 years. Had a decent combine showing, but lack of physical power (especially in the run game) have some steam staying away. Projects as a pick somewhere on day 3.
Javaris Davis, DB
USA Today: 5th round, 169th overall, New Orleans Saints
Javaris Davis projects more as a late day 3 pick vs. undrafted free agent. Very tough player, strong in run support. However, his 5'8" size leaves him limited to a likely slot corner role in the NFL. His motor and tackling ability should translate to a solid career on special teams at the next level.
Overall, Auburn fans are looking at a more successful NFL draft next week. Likely 7 draft picks, many in the early rounds, should make the NFL draft worth watching (besides that fact that it is the only thing on TV in these quarantine days).
(Note: the teams picking at each spot may have changed since each draft was posted due to trades/compensatory picks)
---
Sources: CBS Sports, The Ringer, Bleacher Report, USA Today, NFL.com.
Statistics courtesy of ESPN Stats & Info.