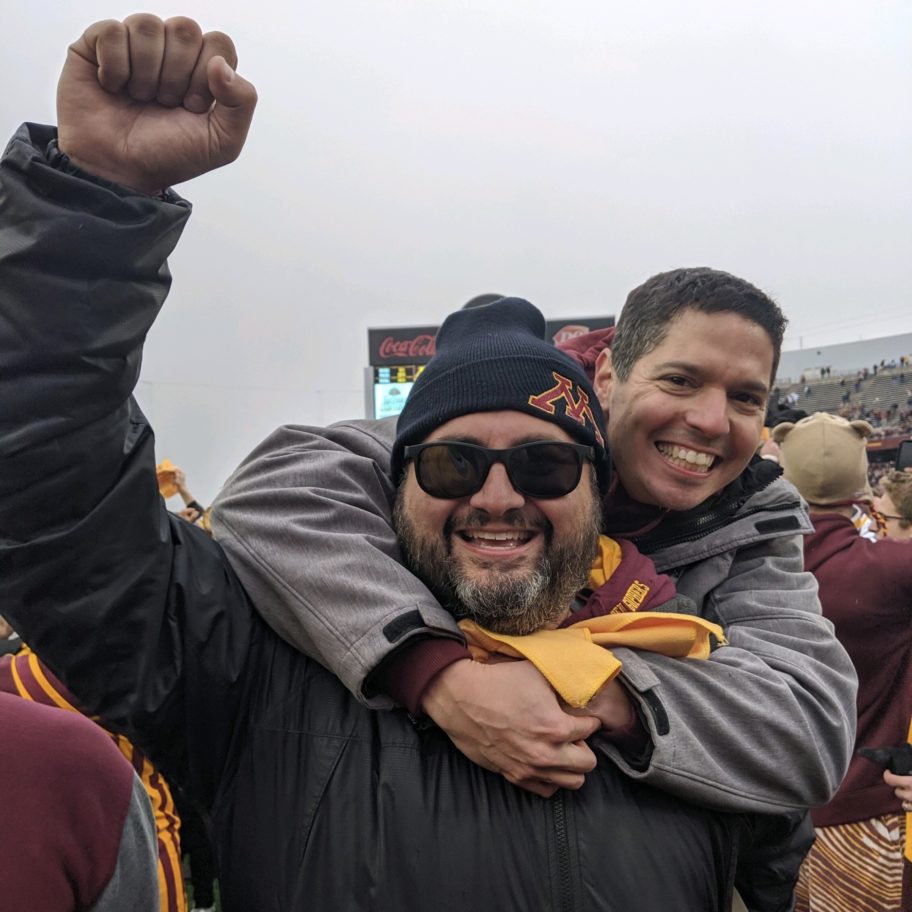 A lifelong Gopher fan, Rob Litt has had season tickets in his family since 1969 for both Gopher basketball and football. Since 2004, he has attended at least one Gopher football road game every year and has a sad record of 4-14 in these road games. But the loyalty never waivers despite only two January 1 bowl games and only 1 Final Four in his lifetime. Rob has helped lead GopherHole.com since 2004. @GopherHole has been the leading online home for passionate Gopher fans since 1997.

1. What are a Minnesota fan's thoughts about Auburn football historically and what about the program right at this moment?
Most Minnesota fans are very excited to play a program like Auburn. Most SEC schools won't schedule Big Ten teams in non-conference in home and homes because you guys (or ya'll) don't want to play in any actual weather, so we're excited to play a team on the cusp of being a "helmet" school. Auburn is a national brand and a big opportunity for Minnesota, just as it was when we beat Alabama in the 2004 Music City Bowl. We're proud of our all time 1-0 record vs 'Bama, regardless of it being during the Mike Shula Era.
2. What's the vibe like in the fanbase? Still high off that Penn State win?
This has been a historic season for Minnesota. We achieved so many "firsts" and we're ecstatic to be in a J1 Bowl. That being said, this is as close as we've been to the coveted Rose Bowl in decades, so there is a sense of disappointment we didn't achieve that.
3. Who are you two favorite Auburn Tigers of all time and why?
That conversation starts and stops with Bo Jackson. An absolute legend in ever facet of the word. As well known as his story is, it's probably not well known enough. Today's kids should know about Bo like they know about MJ or Tiger. If we have to pick a second Auburn Tiger, we'd go with Dontarrious Thomas as he had a solid 4-5 year run with the Vikings.
4. Which two Gophers should Auburn fans look out for and why?
Rashod Bateman, future NFL star WR. We got him out of SEC country (from Georgia, turned down the Bulldogs) and he's an absolute stud. We'll get one more year out of him before he enters the draft after next season. The other one is Antoine Winfield Jr., son of the former NFL star. Like his Dad, he's undersized but just like his Dad, he's an absolute stud. He's Minnesota's 7th consensus All-American in the history of our program. We fully expect this will be his last game before declaring for the NFL.
5. In which positional matchup do you see Minnesota excelling against the Tigers?
If we have any shot to win this game, the matchup we need to exploit is our WRs. We know Auburn has speed on the corners, but our WRs are our strength and if they are stopped, we may struggle to put points on the board.
6. Where will Minnesota struggle against Auburn?
Any time a Big Ten team faces an SEC team, the speed topic comes up as it has leading into this game. It will test us for sure.
7. Is Auburn's 63-14 win over Purdue last season anywhere in the back of the minds of the Gopher faithful?
Auburn's win over Purdue last season is in the back of our minds as much as our win over Alabama in 2004 is in the minds of Auburn fans.
8. What's your prediction/analysis of the game?
If Minnesota can withstand an early knock out attempt from the Tigers, we think we'll pull this out in a close game. Nearly every media outlet has Auburn winning this game, just as most had Penn State beating us in early November. But we'd rather be optimists and be wrong than pessimists and be right. Gophers shock the Tigers 23-20 and improve 2-0 all time combined vs Roll Tide and War Damn Eagle.
9. Give me your very early prediction for these two teams next season.
Minnesota's offense doesn't miss a beat even with a new offensive coordinator. The Gophers finish 10-2 again, this time beating both Iowa and wisconsin (we don't capitalize the "w", ever). Auburn will win at Georgia next year and will knock off LSU at home. The Tigers will be undefeated heading into the Iron Bowl, but Toomer's Corner will remain silent as Alabama gets revenge and ruins Auburn's shot at a national title.
10. You care about hockey more, don't you? Be honest. It's true. You know it.
We're all about rowing the boat…hard to row a boat on a sheet of ice!! Fleck is changing the narrative in the Land of 10,000 Lakes.