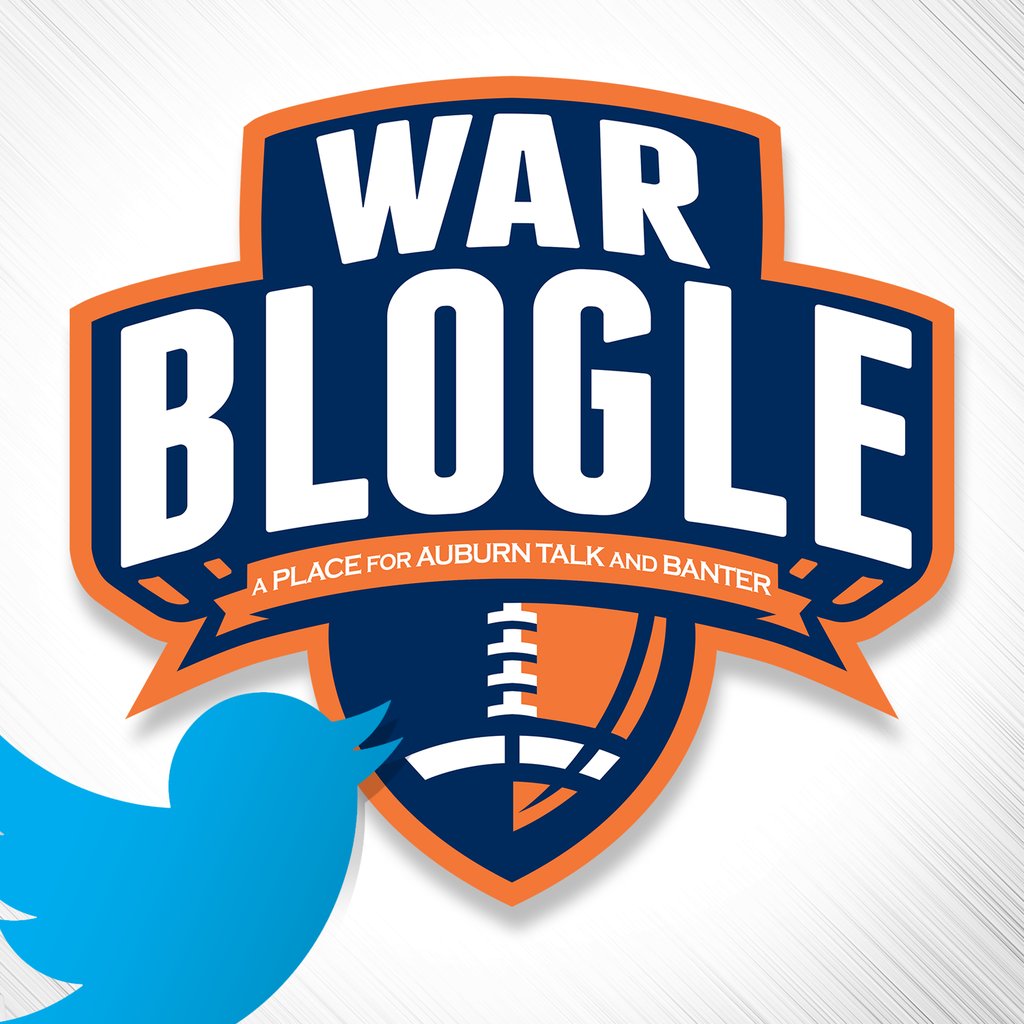 Twitter is the lifeline of this ol' blogle. It's the reason most of you get here. I wish you'd just set WarBlogle.com as your home page and check it every morning, but maybe one day.
I used to rank my top 10 tweets of the year by number of retweets, but now that Twitter has turned favoriting into liking, it just makes more sense to rank based on likability than share-ability.
It was a good year on the tweet-o-sphere, and I hope that continues into 2017. As always, thanks for following. If you don't get on that.
#10
Just thought of something: the next Iron Bowl won't be called by Verne and that alone makes me feel like Auburn will win.

— War Blogle (@WarBlogle) November 27, 2016
#9
Auburn finished 2nd in the SEC West, the toughest division in college football. That's better than 4 other teams. Juju on that beat.

— War Blogle (@WarBlogle) November 27, 2016
#8
Remember that time Alabama played Son of a Preacher Man and Take the Money and Run and Cam Newton ripped their souls through their throats?

— War Blogle (@WarBlogle) November 26, 2016
#7
2013 National Championship avenged!!! pic.twitter.com/uug6xb4Rgt

— War Blogle (@WarBlogle) June 6, 2016
#6
54 years ago today, the greatest athlete was born.
3 years ago today, the greatest athletic play was born. #auburn #wareagle pic.twitter.com/KgU71V8njQ

— War Blogle (@WarBlogle) November 30, 2016
#5
Jeremy Johnson has run out of the tunnel and pumped up the crowd like he was starting every game this year. I'm glad he's starting tomorrow.

— War Blogle (@WarBlogle) November 18, 2016
#4
The trees are rolled. #auburn pic.twitter.com/mNYr46oo9l

— War Blogle (@WarBlogle) September 25, 2016
#3
Sports Illustrated's upcoming "College Football's Greatest" names the Kick Six the best regular season football game ever. #auburn pic.twitter.com/ufyC8CZ3UJ

— War Blogle (@WarBlogle) December 7, 2016
#2
I don't care who graduated. I don't care who was hurt. Auburn basketball just beat a team that was in the Final Four last season. #wareagle

— War Blogle (@WarBlogle) December 22, 2016
#1
It's official: Auburn will finish 2nd in the SEC West regardless of what happens Saturday. The Tigers were picked to finish 6th. #wareagle

— War Blogle (@WarBlogle) November 25, 2016
If you'd rather see the top 10 most retweeted tweets, here you go:
#10
RT if you love Auburn. Like if you just like Auburn.

— War Blogle (@WarBlogle) June 5, 2016
#9
2013 National Championship avenged!!! pic.twitter.com/uug6xb4Rgt

— War Blogle (@WarBlogle) June 6, 2016
#8
Video of a girl pointing out the guy who lit the toilet paper on fire before he ran off. (via @shanesrew_jacks) pic.twitter.com/2pH3nLhsgG

— War Blogle (@WarBlogle) September 25, 2016
#7
It's official: Auburn will finish 2nd in the SEC West regardless of what happens Saturday. The Tigers were picked to finish 6th. #wareagle

— War Blogle (@WarBlogle) November 25, 2016
#6
The trees are rolled. #auburn pic.twitter.com/mNYr46oo9l

— War Blogle (@WarBlogle) September 25, 2016
#5
54 years ago today, the greatest athlete was born.
3 years ago today, the greatest athletic play was born. #auburn #wareagle pic.twitter.com/KgU71V8njQ

— War Blogle (@WarBlogle) November 30, 2016
#4
Your annual reminder that Bear Bryant didn't wear houndstooth all that much. #auburn #ironbowl pic.twitter.com/V07J1KLRbp

— War Blogle (@WarBlogle) November 22, 2016
#3
Sports Illustrated's upcoming "College Football's Greatest" names the Kick Six the best regular season football game ever. #auburn pic.twitter.com/ufyC8CZ3UJ

— War Blogle (@WarBlogle) December 7, 2016
#2
In the last week, Auburn has been named the State's most exciting city, the SEC's #1 gameday experience, and the State's best university.

— War Blogle (@WarBlogle) February 23, 2016
#1
This video shows person walk up to tree and light toilet paper on fire and walk away quickly. (via @austingscott) pic.twitter.com/LVG0GXTppn

— War Blogle (@WarBlogle) September 25, 2016
And if you'd like to see what Twitter says were the most "engaged" tweets:
#10
This is former Bama gymnastics coach @UACoachSarah loving @HunterLJohnson's joke about @coachbrucepearl being fat. pic.twitter.com/8VQjqgGM0I

— War Blogle (@WarBlogle) March 11, 2016
#9
I would not want to tackle Kamryn Pettway. #auburn #wareagle pic.twitter.com/pfMImxipkP

— War Blogle (@WarBlogle) August 4, 2016
#8
54 years ago today, the greatest athlete was born.
3 years ago today, the greatest athletic play was born. #auburn #wareagle pic.twitter.com/KgU71V8njQ

— War Blogle (@WarBlogle) November 30, 2016
#7
Sports Illustrated's upcoming "College Football's Greatest" names the Kick Six the best regular season football game ever. #auburn pic.twitter.com/ufyC8CZ3UJ

— War Blogle (@WarBlogle) December 7, 2016
#6
This picture still makes me happy for many reasons. You can hate, you can be embarrassed, but it shows a lot, man. pic.twitter.com/y3SlPaWExP

— War Blogle (@WarBlogle) February 22, 2016
#5
Hey @SECNetwork, fix the takeover logo now. Like, right now. #auburn #wareagle pic.twitter.com/lwlouYVFOD

— War Blogle (@WarBlogle) July 24, 2016
#4
Video of a girl pointing out the guy who lit the toilet paper on fire before he ran off. (via @shanesrew_jacks) pic.twitter.com/2pH3nLhsgG

— War Blogle (@WarBlogle) September 25, 2016
#3
Your annual reminder that Bear Bryant didn't wear houndstooth all that much. #auburn #ironbowl pic.twitter.com/V07J1KLRbp

— War Blogle (@WarBlogle) November 22, 2016
#2
Netflix actress, @Brittany_MSgirl, wearing John Franklin III's EMCC jersey and holding a cowbell. #auburn #wareagle pic.twitter.com/u6eSKDvmIv

— War Blogle (@WarBlogle) October 8, 2016
#1
This video shows person walk up to tree and light toilet paper on fire and walk away quickly. (via @austingscott) pic.twitter.com/LVG0GXTppn

— War Blogle (@WarBlogle) September 25, 2016