A bye week gives a man time to ponder on things of great importance such as life, the pursuit of happiness, and Auburn's record over the last decade when coming off a bye week. So I began to think back and try to remember how Auburn had done after bye weeks since the 2002 season, and what I concluded was that I had no clue, other than a few between Georgia and Alabama, and those few years when Tuberville only gave Auburn the week off after Alabama just in case the Tigers went to the SEC Championship Game. They made a rule for that, though.
After doing a little research, I kind of wished I hadn't thought about this. Things have not been good. Yes, it's all circumstantial. Most of the post-bye week games have come against Georgia and Alabama, but you would still think a week off would help things. Not necessarily for Auburn, at least over the last few seasons. Here is how it's gone.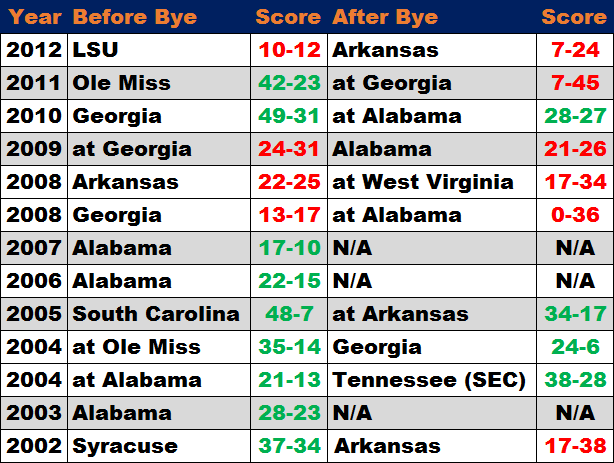 As you can see, the last few years have not been kind, but what really has been very kind other than 2010? One thing that is for certain is that Tuberville had his stuff on lock, though.
Here's a rundown of how Auburn has done after a bye since 2002:
Zero actual bye weeks in three of the last ten seasons (2003, 2006, 2007). All beat Alabama and all had pretty decent seasons.
Three games at home following a bye week with a 1-2 record.
Six games on the road following a bye week with a 2-4 record.
One game at a neutral site following a bye week, the 2004 SEC Championship game win over Tennessee.
A 4-6 total record after bye weeks over last 10 seasons.
Zero wins after a bye week when they lost the game before the bye week.
That last one is the kicker to me since Auburn lost to LSU before this year's bye week. But like I said, this is all mostly circumstantial. There weren't any surprising losses or wins after the bye weeks of the past. It's just how it happened. So basically I'm saying everything that you just read really doesn't matter. But it was fun to look at, right?