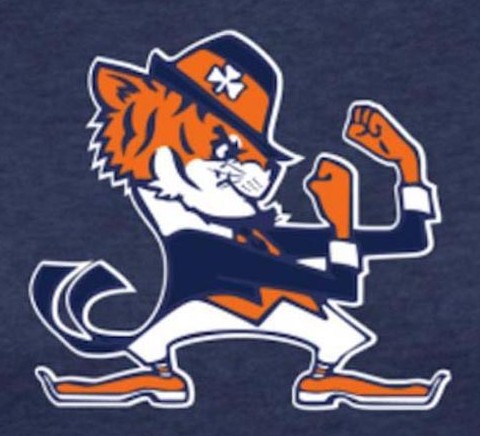 You may or may not be aware by now that the other team in the state has a football game tonight. The importance of the game is, well, not important, but you should also know they are playing the Notre Dame Fighting Irish.
The sports world is generally torn over the Irish. On one side, you have Catholics that pull for the team based on their religious faith alone, as well as those that worship them as the Yankees or Lakers of college football.
On the other side, you have those that hate them just for their "royalty," but for the most part, those that don't like them have just grown tired of the Irish getting credit and publicity in the last two decades — when they've done nothing — just for their history.
I'm generally in that last group, but the difference is that I don't really mind Notre Dame when they are actually good. I don't like that they are in the BCS basically as their own conference, again, just based on their history, but if they are holding their own, I have no issue with them. I mean, who doesn't love Rudy? Shutup, you all love Rudy. Rudy makes us all try harder.
When Auburn played Oregon in the 2010 National Championship Game, a good many Alabama fans spent their hard-earned money to buy shirts, buttons, and stickers that said things like "Roll Ducks Roll." The sentiment of wanting Oregon to win was fine because Auburn is Alabama's rival (even though they said Auburn fans should have pulled for the Tide against Texas the year before), but most Auburn fans ridiculed the fans that wasted money on a shirt that would only be relevant for a week, and then just plain pointless after Auburn won the game.

Then someone made the logo above (which I love just because it looks awesome, and has nothing to do with the game), put it on a t-shirt, and now some Auburn fans are doing the same thing that Alabama fans were made fun of for doing just two year ago. So of course, on Twitter and Facebook you see the same arguments going on that went on in 2010.
But fear not, Auburn fans. Your desire for an Irish victory has deep-rooted reasoning. It's backed with history and tradition. Forget the opponent. It means nothing in this case (and really all cases).
From 1930 to 1950 Auburn had four football coaches, and three of those four coaches were former Notre Dame football players.
Chet Wynne played at Notre Dame from 1919-1921. He then coached at Auburn from 1930 to 1933 with a 22-15-2 overall record. His final season would be the first season of the SEC, in which Auburn was a founding member. Wynne was also the man that gave Shug Jordan his first job out of college, at Auburn, beginning his coaching career.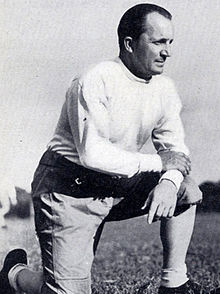 Jack Meagher played at Notre Dame in 1918. He then coached at Auburn from 1934 to 1942 with a 48-37-10 overall record. Meagher took Auburn to their first bowl game and was responsible for the plan to build Auburn Stadium, now Jordan-Hare Stadium.
According to former Auburn AD, David Housel in a 2006 lecture on Intercollegiate Athletics at Auburn University:
"All the [former Notre Dame players turned coaches] played each other. And they talk about wearing blue jerseys, white jerseys, orange jerseys – [Meagher] wanted to show his Notre Dame coaching buddies [that] by God, he had the best tie to Notre Dame, his team was wearing green jerseys. So Auburn wore green jerseys one year."
I have been unable to find a picture, but I trust Mr. Housel. And you go crazy over a stripe change on pants? Auburn wore green jerseys to honor Notre Dame one year. You pull for the Irish all you want tonight. All you want.
Earl Brown played football and basketball at Notre Dame from 1936 to 1938. He then coached at Auburn from 1948 to 1950 with a 3-22-4 overall record. Brown went 0-10 in his final season. Yikes. We gave him a third year after only winning three total the prior two?
I was able to find a newspaper article on the hiring of Brown from the MIAMI news talking about new AUBURN coach and his NOTRE DAME playing career. I mean, come on. This is deep-rooted.
It doesn't stop there. Have you taken the time to listen to the opening phrase of "War Eagle?" Sure you have. Now listen to the main phrase of the Notre Dame fight song (the part that goes "Cheer, cheer for old Notre Dame). That's the exact same rhythm, isn't it?
Try it. Sing "War Eagle, fly down the field. Ever to conquer, never to yield," and then "Cheer, cheer for old Notre Dame. Wake up the echoes cheering her name." Mind-blowing, huh? If you're musically challenged, just trust me. It's the same.
According to Auburn's Director of Bands, Rick Good, the composer of "War Eagle," Robert Allen, wrote the first line with influence from the Notre Dame fight song. It was done on purpose. The schools are linked. I don't know what else I have to tell you. Pull for the Irish tonight, and don't think twice.
You pull for Auburn because they are Auburn. You don't pull for Auburn because they play against Alabama. Now, with this history, with these connections, you can pull for Notre Dame because they are Notre Dame. And it has absolutely nothing to do with Alabama. Go Irish… unless they're playing Auburn.