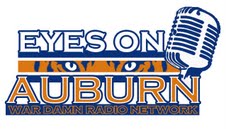 Are you fed up with having to listen to what's going on in the world of Bammer each time you turn on the radio? Are you tired of hearing Bama fans spout off about what they heard from their buddy who knows a guy who can spell "FBI"? Well you, my friend, are in luck!
Justin Hokanson of AuburnSports.com and former Auburn great Rob Pate (that rhymed) have teamed up to create an all-Auburn, all-the-time radio show called 'Eyes on Auburn' on the War Damn Radio Network. The show will be produced by the self-proclaimed King of Birmingham Media, Blake Ells.
The show will go on every Tuesday night beginning tonight (Aug. 2) and will run from 6-8 pm CDT. Through the power of technology, the show will be streamed worldwide at 977thezone.com. Also, there are some markets that will have the show broadcast in their area.
WZZN 97.7 (Huntsville)
WTXK 107.5 (Montgomery, Prattville, Auburn, Troy, Wetumpka)
WNSP 105.5 (Mobile)
WESZ 98.7 (Abbeville, Dothan)
WCOQ 90.5 (Colquitt, GA)
Not surprisingly, Bammerham hasn't picked up the show yet (it would air right after Finebaum), but hopefully they will soon. I'm not going to go as far as those that are cancelling their Birmingham News subscription because they believe it is biased towards Auburn, but this area is heavily saturated with Crimson talk. It will be good to hear a few hours dedicated to Auburn, put on by two guys who know definitely know their Auburn football.
Be sure to listen tonight and forevermore.