As 2019 comes to a close, Auburn basketball remains undefeated after defeating the Lipscomb Bisons 86-59 in front of a surprisingly loud holiday crowd inside Auburn Arena. The Tigers will also finish out the decade with an overall record of 169-128. This is truly incredible considering the state of the program 7 years ago. I remember going to games during the last years of the old coliseum and the first days of Auburn Arena where the seats were barely half full. Students weren't interested, and the product on the court was…well not great.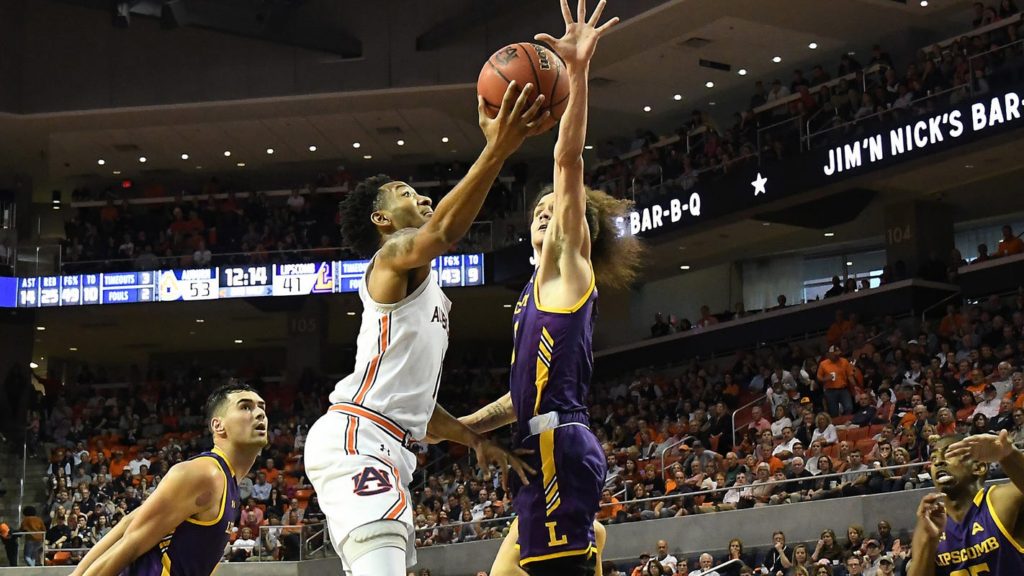 Hey, look at us, who thought he'd be here today? Not me! What Bruce has been able to do with this program is nothing short of a miracle. I encourage everyone to not take it for granted, and to enjoy it. Auburn is ending the decade on a high note, and we are looking good for 2020 and beyond.
Even more important than the win, Auburn now is now just 1 of 2 teams left in College Basketball with an undefeated record, and is one of college basketball's consensus picks to go far in the tournament this year. I think we all know what that means…MORE LAND!! For those that are unaware, user u/jloose128 on Reddit made a map at the beginning of the season with undefeated teams. Over the course of the season, these teams gain more and more land as other teams lost.
After Liberty's loss to LSU (thanks Tiger bros), Auburn and San Diego State are co-owners of America. Auburn controls the Eastern portion of the United States, while the Aztecs control the West, along with Alaska and Hawaii. Below is the visual representation of what the map looks like.
Look at all that land. Isn't it beautiful? That's what we are playing for this year folks, land! With all that being said, let's take a look at how the Tigers took care of Lipscomb.
It was a nice breakout game for Danjel Purifoy, who had been quiet the last month or so. Danjel finished as Auburn's leading scorer with 17 points and 1 rebound shy of a double-double. Purifoy did it all for the Tigers on Sunday, going 3-5 from three and 4-4 from the line.
With all the attention that Samir and Wiley get during the game from the opposing team, it's easy to forget that Danjel is a capable scorer. He can be overly passive at times, but he's going to play a vital role in conference play if Auburn has any hopes of finishing at the top of the conference.
Sunday was also a nice coming out party for my guy Jamal Johnson. During my pre-season breakdown, I listed Jamal as a player I was keeping a close eye on this season. During his freshman year at Memphis, Johnson was second on the team in three pointers made, something Auburn would struggle with this season. Jamal went 4-6 from three-point land, providing that outside spark the Tigers desperately need.
If Jamal can be that microwave scorer off the bench, that will relieve the pressure on Samir and J'Von on offense. His spacing will open up lanes for Samir and Isaac Okoro.
Speaking of the talented freshman, Okoro had another really nice game on Sunday. The potential NBA lottery pick scored 14 points and also went 4-5 from the free throw line!!!!! The only negative to Isaac's game is his outside shot. Teams are really starting to dare him to shoot it from three, if he can somehow improve that, good luck America.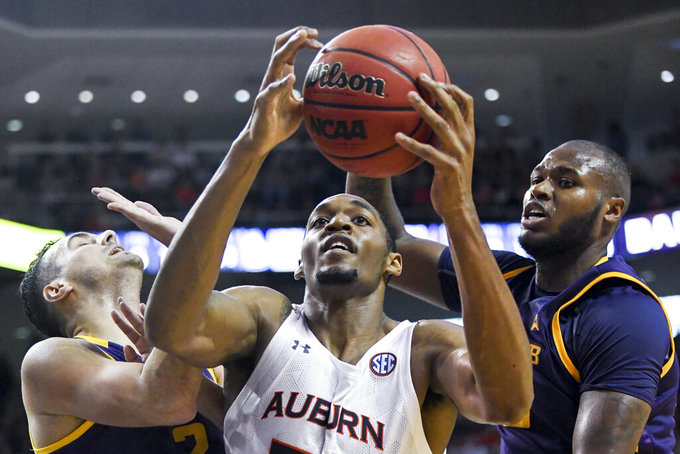 The last, and most important takeaway from this game is that Austin effing Wiley shot a three. I couldn't believe it in the moment, I'm still not sure it actually happened, But Wiley attempted a beautiful rainbow three that almost didn't hit the backboard. J'Von McCormick was laughing on the court following the stoppage of play to see if the ball hit rim.
The shot was so bad that I actually kind of want Austin to shoot more?? Is that crazy? If he makes one inside Auburn Arena, I think the whole place will just collapse.
With the non-conference portion of the schedule over, it's time to look ahead to SEC play starting on Saturday at Mississippi State. January is where last year's team really struggled, it'll be important for the team to start out strong this year.
The defense will be able to keep us in games against anyone, but we'll need guys to step up on the offensive end on the road to get us over the top.