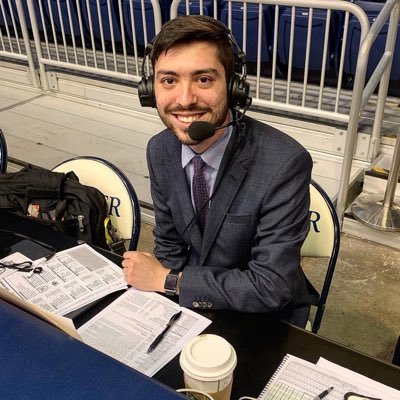 Jacob Pavilack is in his fifth year with the Kent State Sports Network from Learfield IMG College and serves as the sideline analyst for the Golden Flashes. He also serves as the home basketball radio announcer for the network. He can be found on Twitter at @JacobPavs. He started off so cordial and nice, and then he came off the top rope.

1. What are a Kent State fan's thoughts about Auburn football historically and what about the program right at this moment?
To be honest, I'm not sure there would be many thoughts from a fan's perspective regarding Auburn historically since the programs have never met before.
2. What's the vibe like in the fanbase?
There is optimism. Second-year head coach Sean Lewis has brought some excitement to Kent as he tries to turn the program around which hasn't seen a winning season since 2012.
3. Who are you two favorite Auburn Tigers of all time and why?
Bo Jackson because Bo Knows and Charles Barkley. Who doesn't love Chuck? One of the most colorful players and analysts out there.
4. Which two Golden Flashes should Auburn fans look out for and why?
Defensive back Qwuantrezz Knight. He is a transfer from Maryland who was initially going to sit out this year due to NCAA guidelines, but appealed them and won to get the chance to play this season. He was all over the field in week one at Arizona State and immediately upgrades Kent State's defensive backs.
Wide receiver Mike Carrigan is expected to make his season debut Saturday after missing the first two games of the season. He was a dynamic playmaker a season ago and is the team's leading returning receiver that should help out KSU's quarterbacks.
5. In which positional matchup do you see Kent State excelling against the Tigers?
Special teams. Punter Derek Adams is averaging over 44 yards per punt and has placed seven of 12 inside the 20-yard line. Kicker Matthew Trickett was an All-MAC First Team kicker last year and is coming off a 4-for-4 day with a walk-off winner in overtime against Kennesaw State.
6. Where will Kent State struggle against Auburn?
The lines of scrimmage. It is common for any Mid-American Conference team to be undersized against a Southeastern Conference team and that holds true for this matchup as well. The Golden Flashes offensive line will have to neutralize Auburn's stud-filled d-line and give the quarterback a chance to step up in the pocket and throw.
7. Does Kent State take pride in Nick Saban considering he went there? Remember where you are right now.
Of course Kent State does. Saban was a member of the 1972 MAC Championship team, the only league-winning team in program history. Kent State has other notable coaching alums such as Gary Pinkel, who was the longtime head coach at Missouri and played alongside Saban on the '72 squad. Don James didn't attend Kent State, but he was the head coach of the 1972 team as well and went on to win the 1990 national championship at Washington.
Lou Holtz, the longtime coach most remembered for his time at Notre Dame, also graduated from Kent State. Dean Pees was the head coach at Kent State in the late '90 and early '00s and has been an NFL defensive coordinator for nine seasons with New England, Baltimore and Tennessee.
8. What's your prediction/analysis of the game?
It just means more.
9. Where will Auburn and Kent State end the season?
Both teams will win more games than they did last season.
10. KENT ISN'T EVEN A STATE!
That is correct. And the Kick Six was a fluke.